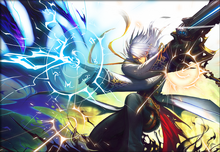 Overview
Edit
An enigmatic mix between Humans and the legendary Cordis race, his aptitude for magic surpasses any Human. 
A specialized fighter that uses the combination of guns and magic, he eliminates anyone who stands in his path. Mage is able to advance to 3 different classes for his next tier: Shadow Mage, Dimension Controller or Freezing Blaster.
Base Information
Edit
Combat power: ★★★★★☆☆☆
Difficulty  : ★★★☆☆☆☆☆
Survivability  : ★★★★☆☆☆☆
Class Biography
Edit
Mage is a original descendant from Atlantis/Coredis, mixed blood from human and ancient Atlantis/Coredis. They learn everything in order to survive.
However, Archie hated Mage and ordered an all-out assault on Mage extermination operation to eliminate all them. The survivor later joins player's warrior group along with Rogue, Warrior, Nobleria, Eclair and Scyther that was band up together in order to defeat Archie and revealing the mastermind of Mage extermination.
Mage was trained by Brent, Thernolan's Archmage and the only remaining Archmage that survives from Great Thernolan Fire.